SET THE CONTROLS FOR THE HEART OF THE SUN 2006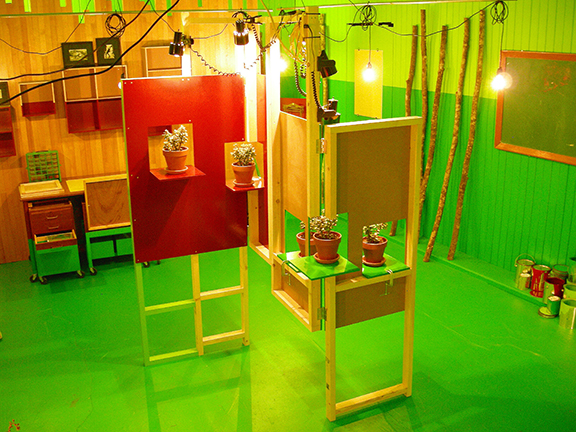 THE SPACE WAS DIVIDED AT THE VERTICAL MIDPOINT CREATING A HORIZON LINE IN EVERY DIRECTION. VERTICAL PLANES COLLAPSED IN FAVOUR OF AN INFINITE CHARTREUSE SKY ABOVE AN INFINITE KELLY GREEN FIELD.
Desk, chair, table, nesting tables, fish tanks, chalk board, wooden shrine, suitcase, wooden cases, plastic organizer, lamp stand, escavaria + jade plants, soil, gravel, apples, limes, copper coins, lotus lights, clip lights, dangling lights, bulbs, terra cotta pots, glass vessels, paint cans, tin cans, peanut butter jars, milk crates, cookie tin, found photos, custom frames, C clamps, extension cords, splitters, alder poles, wood, sign painters board, paper, cardboard, steel rings, conduit, aircraft cable, pencils, cable ties, elastic bands, tape, latex + enamel paint, dimensions variable. WRKS DVSN. The recycled oak floorboard feature wall was designed by Claire Wood + built by Oscar Trainor + Jonny Nonaka.